I'm doing a 1 300 kilometer thru-hike of the Swedish mountains this summer, and this series of blog posts is about my preparations for the hike. You can read more in the introduction, or skip directly to the section you're interested in below.
While planning my route on the Green Ribbon, I relied heavily on the book "The Swedish Green Ribbon" by Jörgen Johansson. Jörgen Johansson is Swedens most prominent lightweight backpacking expert, as well as the creator of the backpacking term "3 for 3". His Green Ribbon book covers a little bit of gear as well, but its focus is to provide route options with fewer gravel roads and more off-road hiking.
I have three goals for my Green Ribbon route:
I want as little overlap as possible with my previous hikes in the Swedish mountains (mainly the King's Trail and the Padjelanta Trail).
I'm collecting cabin patches from the Swedish Tourist Association cabins, so I want to pass as many new cabins as possible.
The less road walking the better.
Thankfully, Jörgen Johansson made it easy for me to find a route that fulfills those goals. Except for a couple of minor deviations (mostly around Abisko), I will be following what Jörgen describes as the western route through the Swedish mountains. It's not the shortest route from Grövelsjön to Treriksröset, but it is the route with the least amount of road walking and it only has about 100 km of overlap with my previous hikes. It will also take me to remote areas of Swedish nature that I'd be unlikely to visit anytime soon outside of my Green Ribbon hike.
Jörgen Johansson splits the Green Ribbon route into five sections, so I've done the same here. Those sections are:
My rough estimate is that the hike will take me 64 days, plus a couple of rest days here and there in towns and mountain stations I pass on the way. You can find an approximate map for the entire route here.
Section 1
Grövelsjön – Helags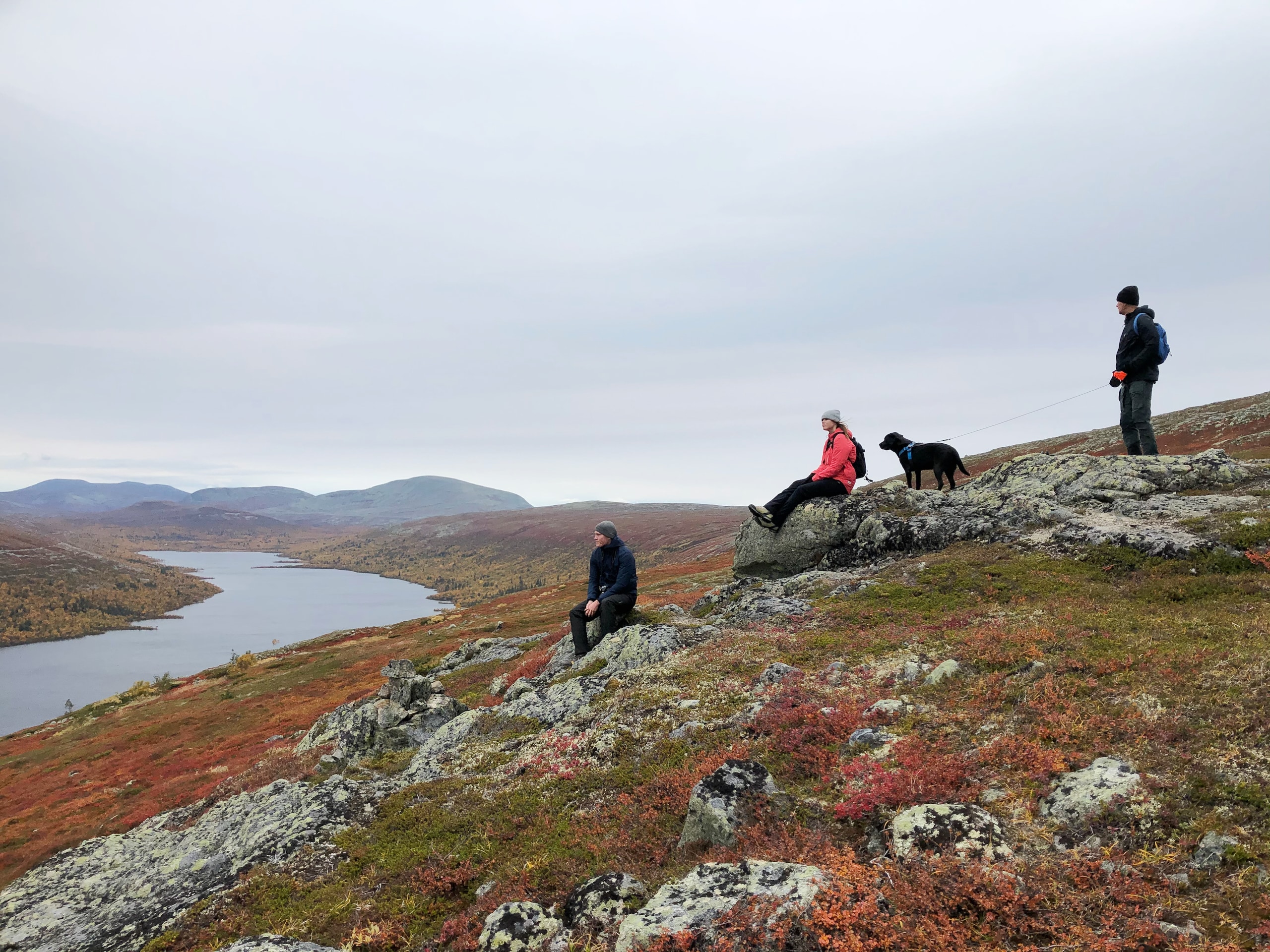 Distance
126.2 km
Ascent
5 188 m
Ascent/km
41,11 m
Est. duration
6 days
I have day hiked in Grövelsjön and did an overnighter in Rogen Nature Reserve with my girlfriend last year, but most of the first section of the Green Ribbon will be new to me. My girlfriends family has a cabin in Fjällnäs, west of the town Hamra, so I'll be able to pick up a supply box there before continuing north to the mountain Helags that marks the end of the section. Helags is the highest Swedish mountain south of the Arctic Circle, and I've seen it from afar before but never up close. I'm looking forward to changing that.
Section 2
Helags – Gäddede
Distance
335.2 km
Ascent
7 119 m
Ascent per km
21,23 m
Est. duration
15 days
Helags is the first proper fork in the road in Jörgen Johanssons Green Ribbon book. From Helags, you can either continue north to Storlien and the Anjan mountain lodge on more remote trails and sections of off-trail hiking, or turn northeast towards Vålådalen, Åre and Olden on well-maintained trails and some road walking. I've decided on the western route, and that's because of the wilderness areas found north of Anjan: Skäckerfjällen, Sösjöfjällen and Offerdalsfjällen. These form a large and very remote area of the Swedish mountains with barely any marked trails and few visitors.
To get there, I'll have to ford a river called Gaunan. It's supposed to be a challenging ford most years, but if 2023 ends up as rainy as 2022, it might be too much for me to handle. In that case, I will still hike north into Skäckerfjällen, but instead of continuing further north to the Gaunan river, I'll turn east to Kolåsen and then road walk north to the western edge of Sösjöfjällen where I'll reconnect with my planned route.
The downside of picking a more remote route, especially on this section, is that I'll be less likely to meet other Green Ribbon hikers on the way. Pretty much everyone who hikes the Green Ribbon passes Gäddede, the end of section 2, and since Gäddede Camping & Stugby offers all Green Ribbon hikers one free night of accomodation, most hikers stay there for a day or two. I hope I'll get a chance to meet some other Green Ribbon hikers there.
Section 3
Gäddede – Hemavan
Distance
245 km
Ascent
8 057 m
Ascent/km
32,89 m
Est. duration
12 days
Most of this section will follow Lapplandsleden, which had its official opening in 2021 and stretches from Borgafjäll to Hemavan. I'll connect to Lapplandsleden at Slipsikstugan and follow it the rest of the way to Hemavan. It irks the completionist in me that I won't walk the entire trail, but the lengthy detour to Borgafjäll doesn't seem worth it. Especially since a lot of Green Ribbon hikers seem to think that this is the most tedious section of the hike.
Section 4
Hemavan – Abisko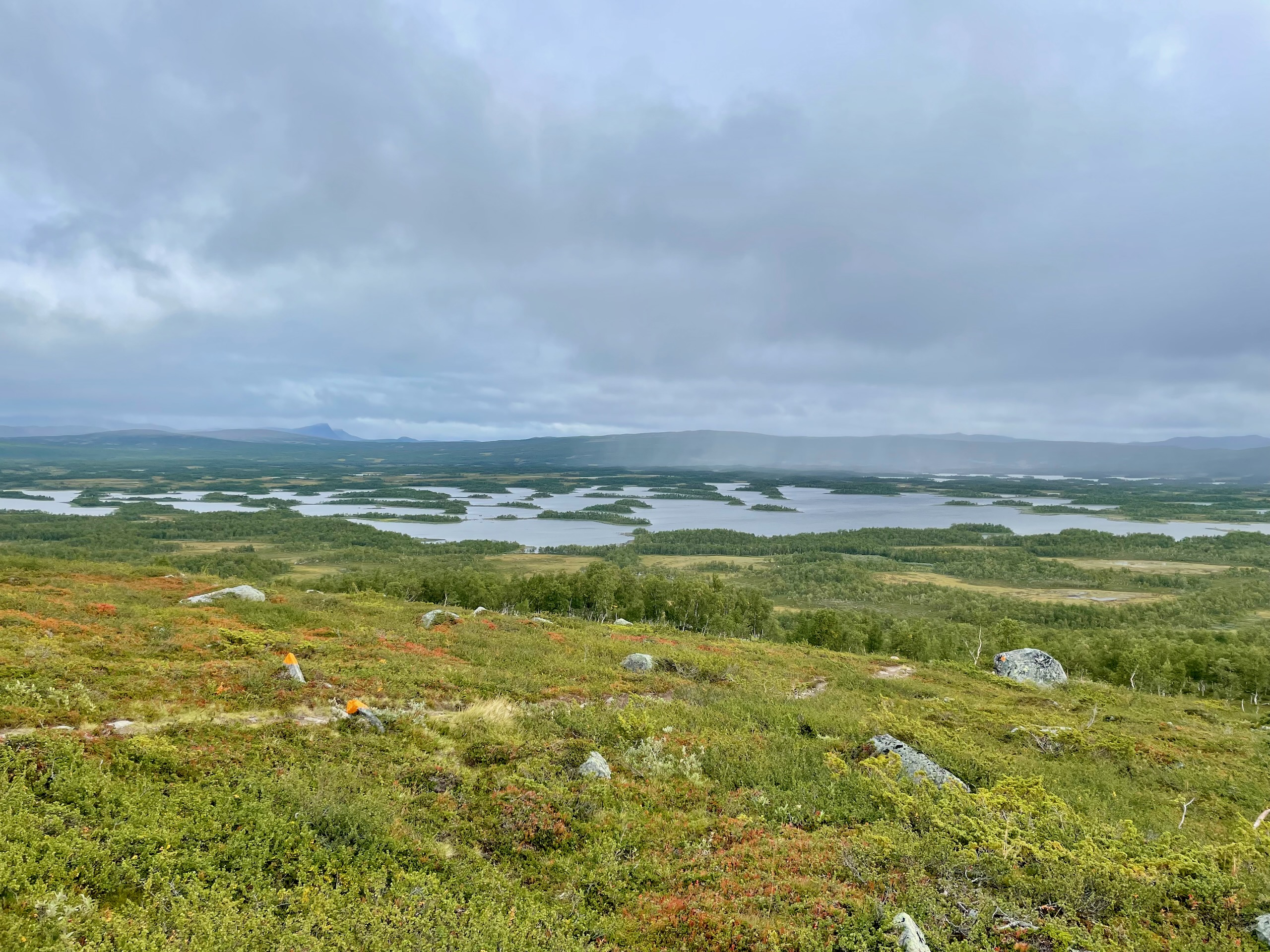 Distance
454,8 km
Ascent
8 820 m
Ascent/km
19,39 m
Est. duration
23 days
Hemavan was the end point for my southbound King's Trail hike in 2021. On my Green Ribbon, I'll follow the King's Trail north through Syterskalet until I reach the Tärnasjö cabins. Here, the King's Trail turns east towards Ammarnäs. I'll continue north to the Dalavardo cabin and Vindelkroken, hike over the mountain group to the northeast, cross the Laisälven river, and then continue north until I reach the mountain hostel Vuoggatjålme to pick up a supply box and get some fresh food and a rest.
From Vuoggatjålme, I'll continue northwest through the Seldutvágge valley, turn northeast at Jurun and pass south of the Ikkesjávrre lake, and then arrive at the sourthern shore of lake Mávasjávrre. In previous years, the Sápmi village on the northern shore would ferry hikers across the lake for a fee, but there was no ferry service in 2022. If that remains the case in 2023, I'll have to hike around the lake over the Årjep Sávllo mountain to the west. It will be a lengthy off-trail detour with a lot of altitude gain followed by a steep descent, but it's the only western route available to me.
After I've made my way around Mávasjávrre, I'll continue north until I enter Padjelanta National Park and reach the large Sápmi settlement Stáloluokta on the shores of the beautiful Virihaure lake. Me and Rebecka passed through here in 2022 on the Padjelanta trail. I'll follow the Padjelanta trail from Stáloluokta to the Akka cabins on my Green Ribbon as well, but it's a section of the trail well worth repeating. Hopefully I'll have better luck with the weather this time.
After taking the boat over Áhkkájávrre to Ritsem, I'll continue north to the Sitasjaure cabins and then east until I reach the Sälka cabins and the King's Trail. It will be a brief reunion. From Sälka, I'll leave the King's Trail and turn northeast to the Nallo cabins and then continue east to the Vistas valley. I hiked through the northern Vistas valley on my first hike in the Swedish mountains, in 2020. The sun was out, the temperature was perfect and I was surrounded by ripe cloudberries. It's one of my best hiking memories.
On the Green Ribbon, I want to try the trail over the Mårma pass, north of the Vistas cabins. Reaching the pass means 1 000 meters of elevation gain in 10 kilometers, so I might leave it for a future hike if I'm low on energy or unlucky with the weather. If I skip the Mårma pass, I'll continue north in the Vistas valley to the lake Alesjaure, and follow the eastern shore of the lake until I reunite with the trail north of the pass. Next, I'll cross the bridge over Aliesatnu, head northeast through the brush by the Vuopmegeahci hut, and finally hike through the legendary U-shaped valley Lapporten before arriving in Abisko.
Section 5
Abisko – Treriksröset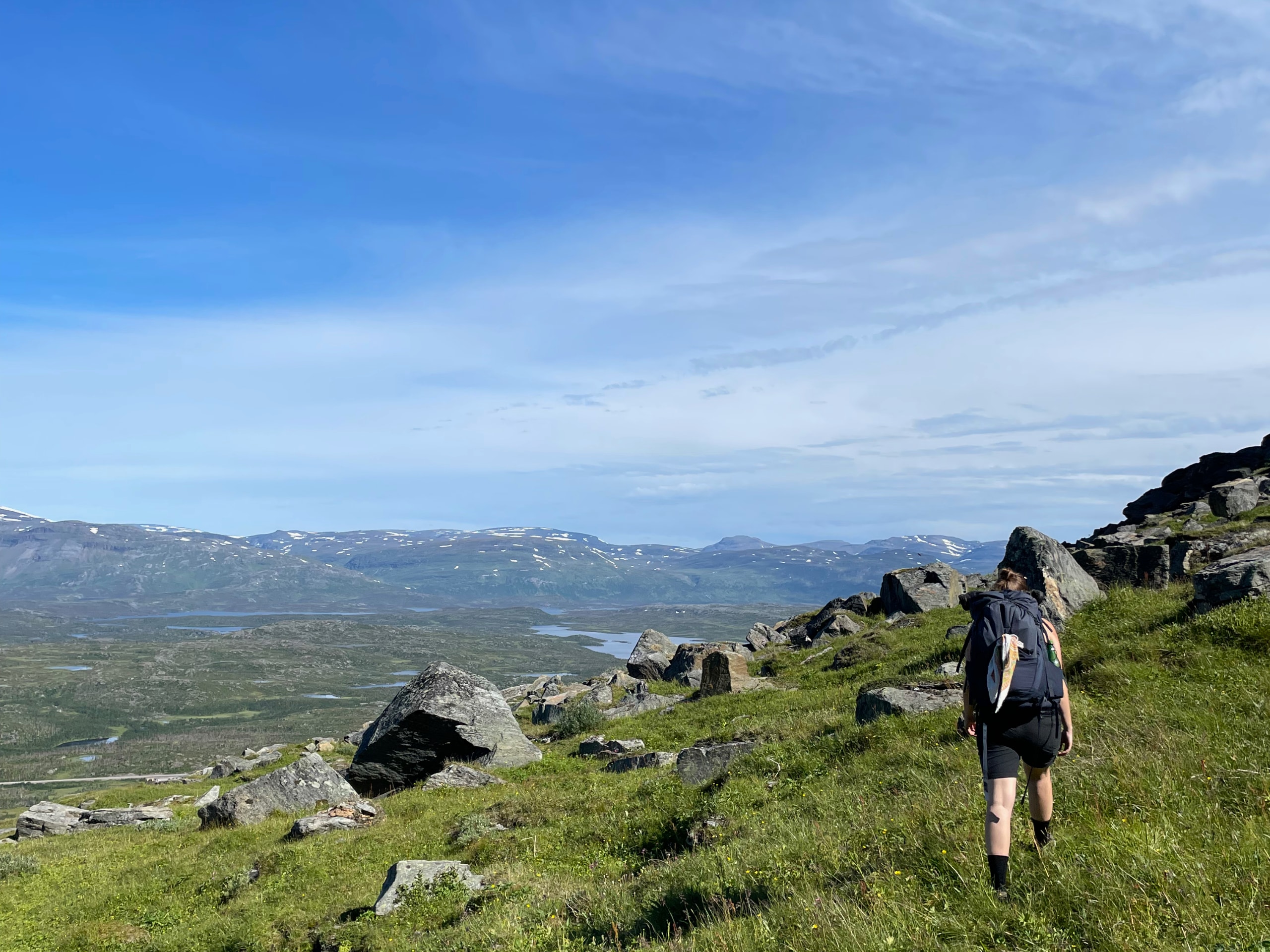 Distance
166.5 km
Ascent
6 208 m
Ascent/km
37,29 m
Est. duration
8 days
In Abisko, my girlfriend Rebecka will join me for the final section to Treriksröset. The route from Abisko to Treriksröset is simple: we'll follow Nordkalottleden all the way to our destination. On the second day, Nordkalottleden will take us into Norway, which we'll hike through for about 125 kilometers until we cross back over the border close to Treriksröset. It'll be an exciting section for both of us, since neither of us have hiked in Norway before. We're looking forward to seeing the renowned Norwegian DNT cabins for ourselves.
Finally, we'll reach our destination. Treriksröset, or the Three-Country Cairn, is a four meter wide concrete cone painted in yellow that marks the point where the borders of Sweden, Norway and Finland meet. The adventure won't be over once we've reached it, though. From Treriksröset, we'll have to hike 11 kilometers to the town Kilpisjärvi in Finland, and then start the 1 400 kilometer journey from Kilpisjärvi to Stockholm by bus and train.