I'm doing a 1 300 kilometer thru-hike of the Swedish mountains this summer, and this series of blog posts is about my preparations for the hike. You can read more in the introduction, or skip directly to the section you're interested in below.
As my friends and family will be quick to tell you, I have become a bit obsessive about my hiking gear. These past two years, I have spent a lot of time and effort (and yes, money) getting my pack weight as low as possible without sacrificing comfort or safety. In fact, my comfort on the trail has increased with every kilo I've managed to shave off.
When talking about gear weight, the important number is your base weight. That's everything you carry with you except what you're wearing (clothes, shoes) and consumables (food, water, gas, hygiene products, etc.). When I hiked the King's Trail in 2021, I had a base weight of 10.5 kilos (23 lbs). Coming from a base weight of 12.5 kilos (30 lbs) the previous season, that seemed really lightweight to me at the time. For the Green Ribbon, my base weight will be below 6 kilos (13.2 lbs). That's just ridiculous. Almost offensively lightweight. I'll carry food for up to eight days on some sections, so that should put my maximum pack weight at about 12 kilos. I'm very happy with that number.
You can find my full pack list for the Green Ribbon on my Lighterpack, with the weight broken down by category and individual item. There might be some changes to the pack list as we get closer to the start of the hike and I try everything out on longer spring hikes.
I'll go through my reasoning behind some of the larger items in the list below.
Backpack
Durston Gear Kakwa 55
The Durston Gear Kakwa 55 will replace my Hyperlite Mountain Gear Junction 3400 (55L) this season. I write "will replace", because as of right now, it hasn't been released yet. From everything I've read about it's smaller sibling, the Kakwa 40, it should be a good fit for me. The Kakwa 55 is supposed to be a lot more comfortable than the Hyperlite Mountain Gear packs, especially with medium to heavy loads, and that's a big plus considering it'll be on my back for about eight hours per day for more than two months.
The Kakwa 55 is also about 160 grams lighter than the Junction with the shoulder pocket attached, and that's always appreciated. I did consider switching to the Kakwa 40 for an additional 55 grams of weight savings, but those extra 15 liters of volume makes the pack a lot more flexible for me in the long term, even if I won't make use of them on the Green Ribbon.
The main downside of the Kakwa 55 compared to the HMG backpacks is that it doesn't come with sealed seams. That means that water will seap through the seams, even if the material itself is waterproof. I plan on adding some seam sealing myself to make it more water resistant, but mostly, I'll just accept that water will get through and rely on the water resistant pack pods to keep my things dry. If the Kakwa is as comfortable as it's claimed to be, it's a small price to pay.
Shelter
Tarptent Stratospire Li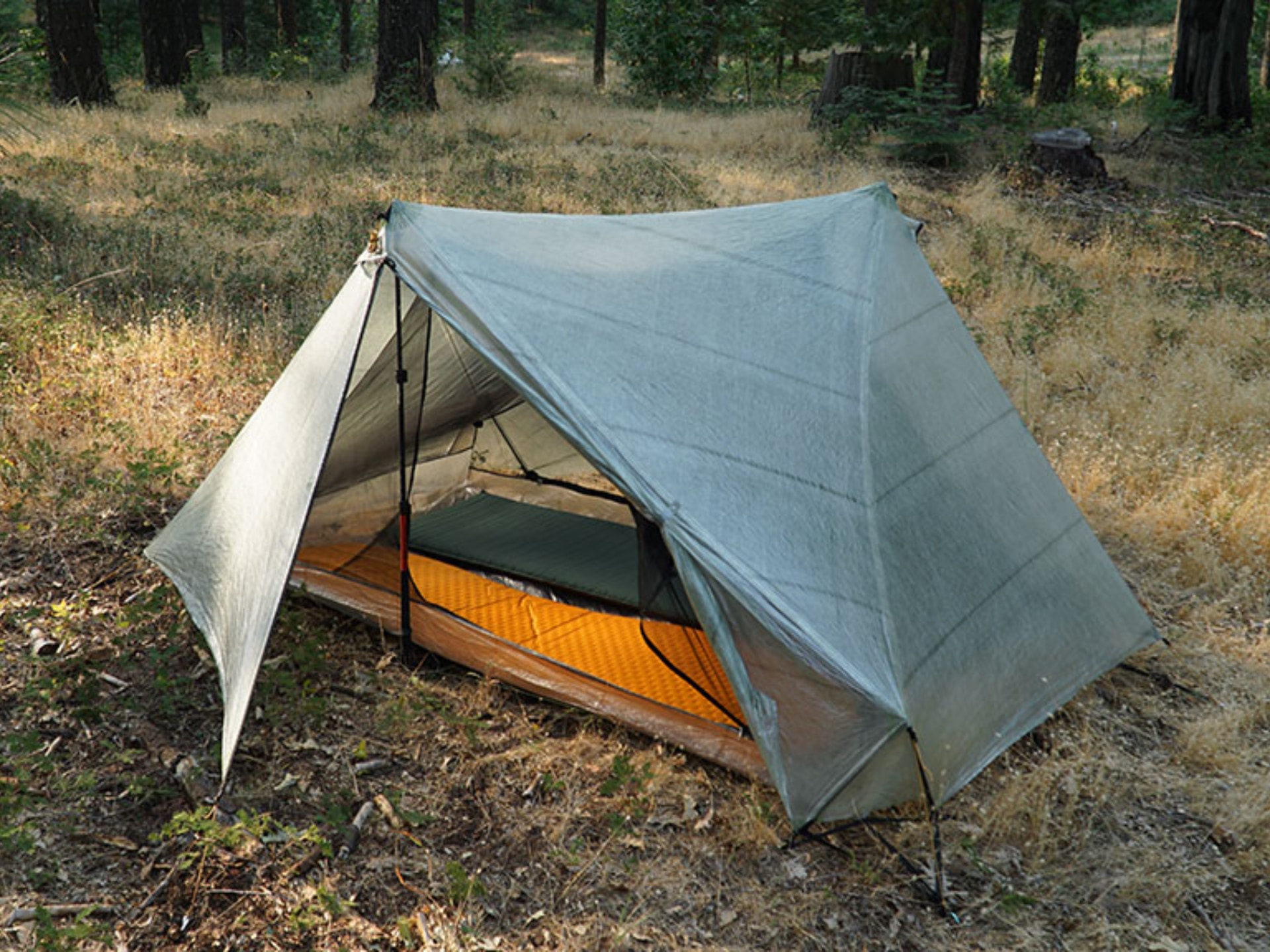 Tarptent Stratospire Li is a trekking pole tent, and the larger cousin of the Tarptent Notch Li that I tried out last year. The Notch Li seemed well designed and very sturdy, and I liked its weight and small size when packed, but I found it a bit too cramped for my 192 centimeters (6.3 feet). I was just barely able to fit my sleep system and pack pods in the inner tent, and it left me feeling claustrophobic when the rain was pouring down outside. By comparison, the two person Stratospire Li is downright spacious. It has a inner tent footprint of 218×114 cm and two large vestibules, which is more than enough. Carrying a two person tent on a solo thru-hike definitely makes this a luxury item, but it's nice to know that I'll have space to spread out when I need to wait out bad weather.
The Stratospire Li is said to be one of the most stormworthy trekking pole tents out there, but I'm not expecting it to handle bad weather above the tree line as well as the Hilleberg tunnel tents I've used in the mountains previous years. I'll need to be more cautious with my tent site selection. I've also strengthened the tent as best I can, with longer ridgeline guylines to give it extra stability in heavy wind, and four heavy-duty Hilleberg Y tent pegs and four Hilleberg Y UL pegs.
For the final section (Abisko – Treriksröset), the plan is for my girlfriend Rebecka to join me and bring her Hilleberg Helags 3. If my Stratospire Li is spacious for one person, the Helags 3 is a palace for two.
Sleep System
Thermarest XLite and Western Mountaineering Megalite
I've been using both the Thermarest XLite sleeping pad and the Western Mountaineering Megalite sleeping bag for a while now, and I've been really happy with both. The former is the Regular length (183 cm), which somehow works fine for my 192 cm body. I have considered getting the Thermarest Uberlite since it would shave 150 grams from my base weight, but I've been discouraged by reports about poor durability. I hope Thermarest finds a sweet spot between the durability of the XLite and the weight of the Uberlite in the future.
If I was to choose a favorite item in my backpack, my long Western Mountaineering Megalite sleeping bag is a strong candidate. That thing is luxurious. When the rain is pouring down during the day and the temperature drops below freezing in the night, knowing that I have a warm and dry sleeping bag in the bottom of my pack keeps my mind at ease. I was tempted by the 115 grams lighter WM Summerlite as well, but in the end, the sense of security I get from the Megalite temperature rating is worth the weight. Also, the Megalite is just SO cosy.
Cook System
Soto WindMaster and Toaks 550ml UL
The cook system is one of those things that you can tweak to no end, but I've landed in one that I'm happy with for the Green Ribbon. The gas burner is the Soto WindMaster with the TriFlex pot support, and it has lived up to its lofty reputation. The WindMaster has a built-in piezo igniter that has been reliable for me, but I bring a Bic Mini lighter as a backup as well. New for me this season is the Toaks Titanium 550ml Ultralight pot, in which I nest the burner and pot support. When I'm having a bad day, I can also tie a piece of string to it and use it as a helium balloon in my tent for entertainment. I'll mostly eat freeze dried meals that only require boiling water, and for that, the tiny Toaks pot is all I need. My freeze dried food brand of choice is Real Turmat.
I keep a classic Wildo Fold-A-Cup in a hip pocket for easy coffee access, and a Sea to Summit Alpha Light Long Spoon in my large food bag from Bonfus. I can leave empty gas canisters in cabin recycling bins as I use them up, so I'll mostly use 100g canisters in order to carry as little metal waste as possible.
Electronics
There's no escaping electronics, even in the wilderness of the Swedish mountains. If you want to register your Green Ribbon hike with the official organisation, Fjällfararnas Vita & Gröna band, you're required to bring a satellite communicator for emergencies and position tracking. I transmit my location once per day with my Garmin inReach Mini so the people at home can keep track of me. I sometimes use it for weather forecasts as well, but its main purpose is to give me and my loved ones peace of mind. When you're out on your own, it's nice to know that you can get hold of emergency services if you really need to. I haven't yet, thankfully.
I bring my iPhone 12 Pro for photography, communication, entertainment and navigation. My navigation app of choice is Gaia GPS, which I've also used to plan my route. With the premium subscription, I can use it with the Swedish terrain map from Lantmäteriet and download the map for offline use. When I have cell phone service, I prefer the official Swedish map app – Min Karta – for its higher resolution maps.
The sun barely sets in the Swedish mountains in summer, but I still bring a rechargable Nitecore NU25UL head lamp just in case. To keep everything charged, I have two Nitecore power banks (NB10000 and Carbo 20000) for a total weight of 454 grams and charging capacity of 30 000 mAh. That lasts me about ten days, which should be more than I need for the most remote sections of the trail. A popular saying in the hiking world is that you pack your fears. If you compare my pack list to those of other hikers, you'll likely conclude that I'm fearful of my phone running out of battery.
For charging, I have a Anker 521 Charger (Nano Pro) with dual USB C ports so I can charge both power banks simultaneously. I have two 25 cm USB C to USB C cable from Satechi for the power banks and the headlamp, and a 100 cm USB C to Lightning cable from Apple for my phone. Having a longer charging cable allows me to use the phone while it's charging.
I also have a USB C to Micro USB adapter for charging the inReach Mini. Yes, it irks me that I have a single Micro USB device. No, I'm not crazy enough to upgrade to the Garmin inReach Mini 2 just because it has a USB C port. Since I'll only use the inReach once per day, I might not even need to charge it during my two months out.
Rain Gear
Montbell Versalite Jacket and Montbell Torrent Flier Pants
According to data from the Swedish Meteorological and Hydrological Institute (SMHI), there's rain two days out of three in the Swedish mountains in summer. If you're unlucky, you can have rain for almost a week straight, like me and Rebecka had in Padjelanta last year. That's when you'll come to either love or hate your rain gear.
For the Green Ribbon, I wanted to switch out my traditional shell jacket – a Fjällräven Keb Eco-Shell Jacket – for a separate wind jacket and rain jacket. The Keb is a good all-in-one-jacket for shorter trips or trips with less precipitation, but it wets through faster than I'd like and takes a long time to dry. I've heard good things about outerwear from Montbell, so I'll be using a Montbell Versalite rain jacket together with a Patagonia Houdini wind jacket. Together, those two jackets weigh almost half as much as my Keb Eco-Shell jacket.
I've been really happy with my Fjällräven High Coast Hydratic Trousers with full-length side zippers, and probably would have stuck with them if they weren't almost two sizes too large for me. My girlfriend Rebecka told me that they looked like a sail cloth when I wore them (pretty much constantly) in Padjelanta, and well, you be the judge. I'll replace them with the Montbell Torrent Flier rain pants with knee-length side zippers for the Green Ribbon. I run pretty hot, so I appreciate being able to ventilate with side zippers even if it adds a little bit of weight.
Shoes
Topo Athletic Ultraventure Pro
I have been a boots guy since I started hiking, but for the Green Ribbon, I decided that it was time to give trail runners a chance. The Topo Athletic Ultraventure Pro seem like a good compromise. They have a rock protection plate and grippy Vibram outsoles, so the feeling underfoot is similar to hiking boots, but they are significantly lighter. The Ultraventure Pro weigh a full kilo less than my Lundhags Jaure II Ms Lt High Boots. I've only been on overnight trips and day hikes with them so far, but they're working well for me. Thanks in large part to the trail runners, I've cut my worn weight almost by half since the King's Trail in 2021.
The biggest hurdle in my transition to trail runners is how to handle getting my feet wet. I've gotten pretty good at keeping my feet dry when hiking in boots, but with trailrunners, you pretty much have to accept that your feet will get wet and deal with it as best you can. I have picked up a pair of Rocky Goretex waterproof socks that I'll use over my regular socks during extended marshland hiking and when it's pouring down all day. I'll have to schedule a rainy hike this spring so I get a chance to put them to the test before June.